2013 news archive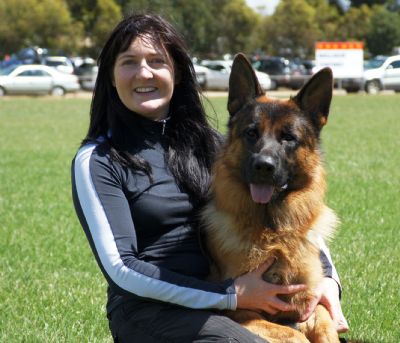 Kazkiri Xavi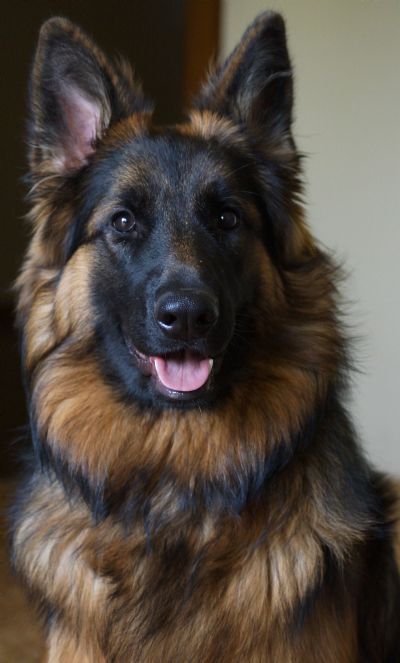 Kazkiri Portobella Belle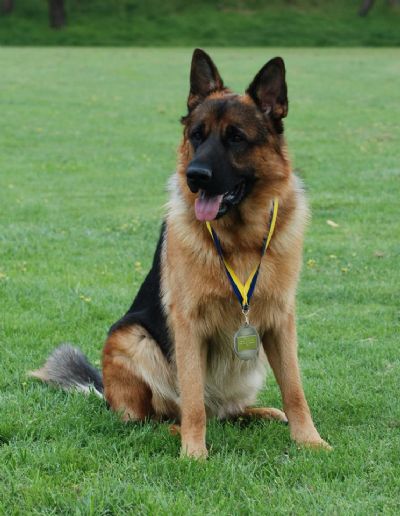 Kazkiri Vasur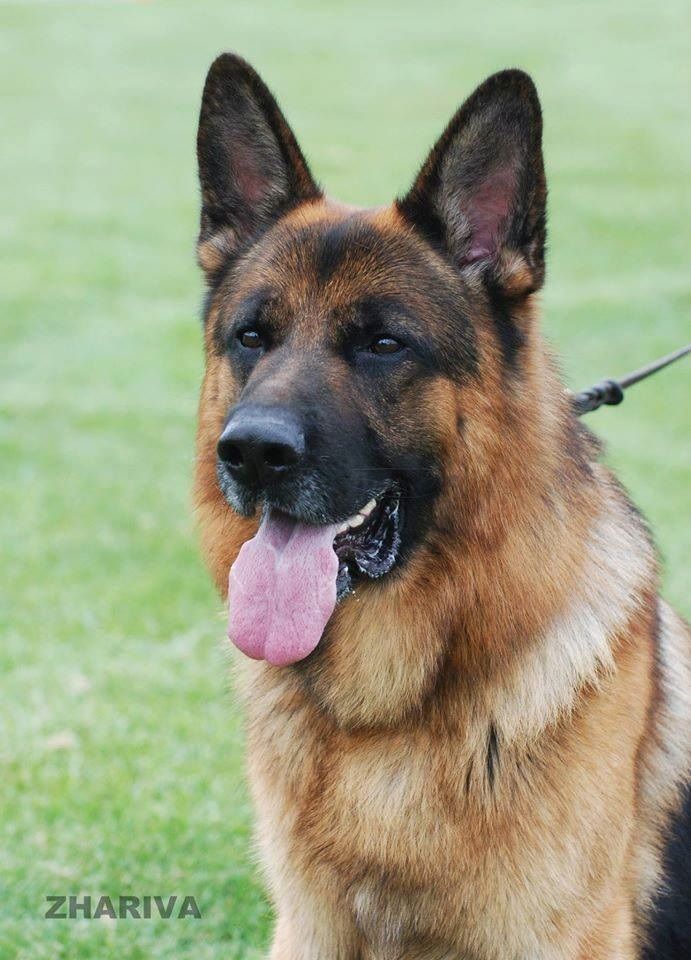 Kazkiri Deep Purple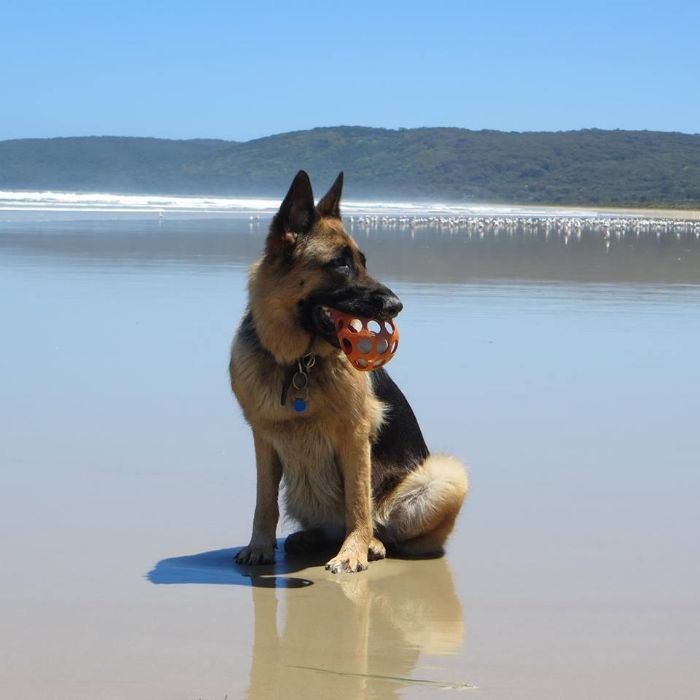 Kazkiri Janti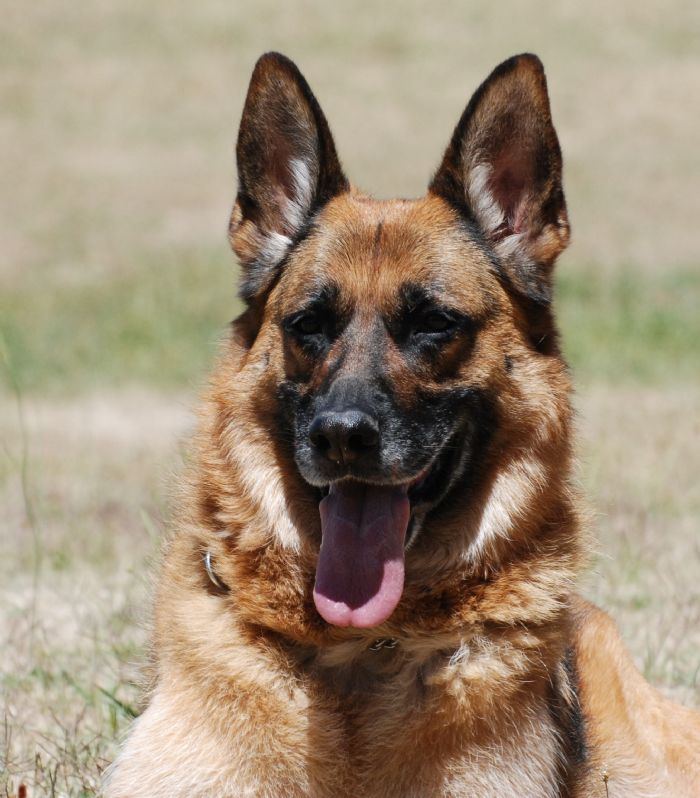 Kazkiri Zengra
31 December 2013. After 20 years we have decided not to renew our GSDCV Membership. We will still be members of Vic Dogs and also be there to support Kazkiri puppy/dog owners.
28 December 2013 - Received very sad news this morning from Leanne Cleare. Kazkiri Just Q - the beautiful Willow passed away last night from Mesenteric Torsion. Our hearts go out to Leanne, Jason & the boys.
21 December, 2013. One of the P Litter has come home for Christmas - the very beautiful Portabello Belle aka Bella. Bella is an absolute joy to have come & visit.
5 December, 2013. We are giving our website a 'makeover', new colours & banner. Hope you are going to like it.

26 November, 2013. Congratulations Marylin Collins & Kazkiri Vasur - Odin.
Odin gained his CCD Title with a score of 97 points under Judge Noeline Mcllroy, the affiliate was Dogs Victoria and the Trial was held at KCC Park.
Once again well done Marylin & Odin we are very proud of your achievements.

26 November 2013. Today we celebrate the 11th Birthday of the Hilltop Vroni & Aimsway Abacus litter.
Happy Birthday
Brandtner, Bergerac, Dalziel, Pascoe, Natalia, Lacey, Dana Scully, Cagney, Alex & Dylan
16 November, 2013. Congratulations Marylin Collins & Kazkiri Vasur - Odin on your success at the Southern Obedience Dog Training Club Double Open Obedience Trials today
Morning Trial - CCD Judge: Mr Barry Cotton - Pass score 91
Afternoon Trial - CCD Judge Me Dennis Cody - Winning the ring with a score of 98

10 November, 2013. Kazkiri Vasur - Odin - won the CCD ring at the GSDCV Inc Eastern Fun Day.
Congratulations Marylin Collins & Odin.
2nd November, 2013
. Kazkiri Deep Purple -Zeke - placed 4th Minor Puppy Dog - the youngest in the class
-
at the
91st GSDCV Inc Championship Show under Herr Hans Peter Schweimer (SV) Germany
.
Zeke's critique is as follows:
Good medium size, of good medium strong of very good structure with good head. Normal wither, very good topline, good croup in position and length. Good fore and very good rear angulation, the hocks should be a little firmer shows good gait but the movement should be a little more powerful

.




Congratulations The Jacobson Family & Odin

.

See Zeke's photo posted on the 29 September 2013
27 October, 2013
Little Diggers Photos
updated

17 October 2013 -
Just Photos
updated
29 September 2013 - Updated photo of Kazkiri Deep Purple "Zeke" - 5 months old - proudly owned by The Jacobson Family. Handled by Ian Urie
25 September 2013 - Kazkiri Pawtraits 3 & Kazkiri Pawtraits 4 - The Little Diggers updated

14 September 2013 - Kazkiri Janti - Rhoadi 2nd place in Rally Obedience Advance A
10 September 2013 - The first litter under the Kazkiri Prefix was whelped on the 10 September 1994 - 5 males 1 female. The sire of this litter was *Schaeferhund Phanto the Dam *Tairnbacher Quini - K. Academy Award, K. Airtight Alibi, K. Artful Dodger, K. Avant Guard, K. Aint Half Hot & K. Anastasia.
15 September 2013 - K. Georgia Brown was whelped on this day in 1996.
9 July 2013 - Little Diggers updated

3 July 2013 - Kazkiri Kumani Breed Survey stautus & photos updated.
21/22 June 2013 - Puppies have all left for their new homes. Things are very quiet at Kazkiri
16 June 2013 - P Litter Photos updated.
8 June 2013 - 3rd Puppy Hour held - Photos & Videos taken which can be seen on the Facebook page Kazkiri Gsds.
1 June 2013 - 2nd Puppy Hour held. Thank you to all attendees :-) Many photos taken.
29 May 2013 - Karen Cordell visited today and took many many photos of our gorgeous babes. See
HERE
26 May 2013 - Puppy hour held for those unable to make it yesterday.
Decisions made on New Owners of the P Litter. Congratulations P Litter Owners. Thank you all who have shown interset in this litter by submitting the Inquiry form and attending the first Puppy Hour.

25 May 2013 - Our 1st Puppy Hour was held yesterday for the P Litter. Approx 30 people attended. At this point I would like to thank everyone who supported our 'Puppy Hour'. Such hard choices - all really lovely people. Photos

HERE.

Tomorrow we are having another 'PH' for the people who could not attend today through work committments and then it is down to work to sort out owners for this particular litter.
20 May 2013 - Kazkiri Voltron aka Quenn has passed the GSDCA HD/ED Schemes. Quenn scored A 4-3 Z 0-0. Well done Quenn! Thank you Christine for putting Quenn through the Schemes.
Jannire Black Betty has now produced EIGHT A & Z Stamps from 3 different sires. Well Done Baby Girl!
13 May 2013 - Kazkiri Vykin has passed the GSDCA HD/ED Schemes. Vykin scored A 2-3 Z 0-0.
Well done Vykin! Thank you Karen for putting Vykin through the schemes
12 May 2013 - Kazkiri Quazar has passed the GSDCA HD/ED Schemes. Quazar scored A 2-2 Z 0-0.
Well done boy! Thank you Christine for putting Qua through the schemes.
10 May 2013 - Today Kazkiri Ximon became part of GSD history being exhibited in the first LSC Open Dog Class at a GSDCA National. Not only was Zen a participant in the Open Dog Class but he won the Silver Medal.
Congratulations Erica & Kazkiri Ximon the 2013 GSDCA National LSC Silver Medalist. Two brothers taking out Gold & Silver Medals in consecutive Nationals. We are so proud of Erica & Zen - Well Done!
4th May 2013 - Iva & Rhoadi are Rally O Novice Class Winners with a score of 98 points Congratulations Girls :-)
1st May 2013 -
Numa
celebrates his 1st Birthday today
28 April 2013 - We are proud to announce that Seigen GSDs has offered us a partnership for
Seigen S & M
which we have accepted. Thank you Christine.
27 April 2013 -
Kazkiri Voltar A5-2 Z0-0
. Congratulations to the Gibbons Family and thank you for being so supportive of Kazkiri - your efforts are very much appreciated
21 April 2013 - C

ONGRATULATIONS to all at Seigen Kennels on Seigen Suris Alfie being awarded the Western Australian State Sieger Title for 2013.
Australian Champion Kazkiri Divine Miss M
Sire: Adrian zur Seehochte
Dam: Tellus Solos Victory
3 Feb 2001 - 20 April 2013
11 April 2013 - Photos updated on
Kazkiri Pawtraits 3
8 April, 2013 - Photos of Jonti, Janti, Quazar & Voltron are now on
Kazkiri Pawtraits 3
8 April 2013 - Happy First Birthday to the V Litter
K. Voltron,K. Vykin, K. Vasur, K. Veidt, K. Voltar, K. Vampi, K. Vija, K. Veletta, K. Volare & K. Villia
3 April 2013 -
New photo of Charlotte & Kazkiri Kipling
26 March 2013 - Happy 9th Birthday to Jelana, Niko (Kaizen) & Marat (Hunter)
23 March 2013 - Happy 7th Birthday to Nemo, Numa, Nautilus (RIP Jet) Nixon
20 March 2013 - Website Updated
1 March 2013 - Kazkiri Zengra is rehomed with Janie & John. Big hugs to all of you. Thank you for giving my beautiful girl a new home.
27 February 2013 - C Litter was whelped on this day in 1997
K. Casals, K. Chloe, K. Cigany., K. Carmen & K. Cossette
23 February 2013 - photo of Kazkiri Xavi's stunning young son
Zhariva Achilles
- 'Numa' - in stance
18 February 2013 - Congratulations to the Gibbons family & Kazkiri Quantico 'Spirit' on 'Spirit gaining her
A 1-6 Z 0-0
16 February 2013 - 2013 sees Kazkiri celebrating 20 years in the GSD Breed.
We are very proud to own, breed & show the noble German Shepherd Dog, which has given us a great deal of pleasure and not just a little heartache.
The most valuable thing we have gained is friendships along the way of this well travelled path.
We have had some success with our breeding & to date we have received the GSDCA Bronze Medals for successfully presenting - under our prefix - 20 animals to the Hip Dysplasia Scheme & the Elbow Dysplasia Scheme.
We have presented 17 animals to the Breed Survey Scheme this includes 10 GSDs we have bred 7 GSDs we have owned under other prefixes.
For a small kennel we have had some success in the Specialist Show ring, the highlights being
Jannire Black Betty 2nd Intermediate Bitch at the 2008 GSDCA National
Kazkiri Xavi & Kazkiri Kreuzer both winning their classes in Junior Dog & Baby Puppy Dog at the 2011 GSDCA National and then Kazkiri Xavi winning the Open Dog Class & Challenge at the 2012 GSDCA National.
Generally we show quite infrequently but over the years we have had Class Winners & Placegetters
We are very proud of these achievements.
We have had our share of sadness too, in losing our beautiful young dog Kazkiri Kreuzer & this year losing Kazkiri Tigerlily, we shared this sadness with Kreuz & Lily's owners. Our hearts have been broken on more than one occasion, but they tell me "that's breeding".
We thank all the friends we have made that have shared the good times & the bad , hopefully there will be more smiles than tears over this coming year.
14 February 2013 - Happy 3rd Birthday to the T Litter
K. Tigressa, K. El Tigre, K. Tijger, K.Tiikeri & K. Tigerlily RIP
9 February 2013 - Happy 9th Birthday to the 'Hood" Litter
K. Pacino, K. Deniro, K. Brando, K. Bogart, K. Marlene, K. Pia Angeli, K. Greta, K. Sophia & K. Ava
3 February 2013 - Happy 12th Birthday to Kazkiri Divine Miss M and her siblings
K. Black SabbathK. Cold Chisel, K. Hawkwind, K. Debbie Harry, K. Annie Lennox & K. Stevie Nicks
1 February 2013 - Happy 7th Birthday to the Z Litter from Vroni & Bobby
K. Zengra, , K. Zambezii, K. Zondeki, K. Zabriski, K. Zingaro, K. Zhane, K. Zanzibar & K. Zahira
27 January 2013 - B Litter's 6th Birthday. Q Litter's 1st Birthday
K. Back in Black,K. Bakkus, K. Bolero (RIP), K. Bam Bam, K. Beam Me Up , K. Bacio, K. Bossa Nova, K. Boags, K.Beez Neez
_______________
K. Quazar, K. Quiana, K. Quirina, K. Quanda, K. Quantico, K. Q Anila, K. Quiptonyte, K. Just Q,
26 January 2013 - Kazkiri Janti
22 January 2013 - Kazkiri Midnite Special photos added to Favourite Photos & Kazkiri Janti Photos updated
21 January 2013 - Photos updated
20 January 2013 - New photos of Kazkiri Q'Anila aka 'Tilly'
16 January 2013 - Happy 11th Birthday to Kazkiri Midnite Special aka Max & his Creedence Litter Siblings.
Kazkiri Divine Miss M (nearly 12 year old) Photo added to Favourite Photos
15 January 2013 - Photo of Suri's grandson Thor
10 January 2013 - Numa Photos updated
9 January 2013 - New Photos of Zhariva Achilles
Favourite Photos updated
8 January 2013 - New Page - Just Photos
Click each link to view larger photo.
Welcome to the 2013 Photo Album.