news 2017 archive
16 January 2017 - Creedence Litter would have celebrated their Birthdays today.

27 January 2017 - B Litter's 10th Birthday. Q Litter's 5th Birthday
K. Back in Black,K. Bakkus, K. Bolero (RIP), K. Bam Bam, K. Beam Me Up , K. Bacio, K. Bossa Nova, K. Boags, K.Beez Neez
_______________
K. Quazar, K. Quiana, K. Quirina, K. Quanda, K. Quantico, K. Q Anila, K. Quiptonyte, K. Just Q,

1 February 2017 - Happy 11th Birthday to the Z Litter from Vroni & Bobby
K. Zengra, , K. Zambezii, K. Zondeki, K. Zabriski, K. Zingaro, K. Zhane, K. Zanzibar & K. Zahira
3 February 2017 - The following GSDs would have celebrated their Birthdays today - Kazkiri Divine Miss M
K. Black Sabbath, K. Cold Chisel, K. Hawkwind, K. Debbie Harry, K. Annie Lennox & K. Stevie Nicks.
9 February 2017 - Happy 13th Birthday to the 'Hood" Litter
K. Pacino, K. Deniro, K. Brando, K. Bogart, K. Marlene, K. Pia Angeli, K. Greta, K. Sophia & K. Ava
14 February 2017 - Happy 7th Birthday to the T Litter
K. Tigressa, K. El Tigre, K. Tijger, K.Tiikeri & K. Tigerlily RIP​
18 March 2017 - Today Kazkiri Janti CCD RA aka Rhoadi & her owner/handler Ms Iva Baloun competed in the Southern ODTC Obedience & Rally Trial. Rhoadi won the ring with a score of 190/200. Rhoadi now has her CD Title and is known as Kazkiri Janti CD RA. Congratulations Team Rhoadi, all at Kazkiri are very proud of you.
4 April 2017 - We have retired from Breeding GSDs. If you are wanting a puppy, we suggest you contact Yvonne from Siobahn German Shepherds on 0426 226 138 who owns Kazkiri Bohemian Rhapsody
8 April 2017 - Happy 5th Birthday to the V Litter
K. Voltron, K. Vykin, K. Vasur, K. Veidt RIP, K. Voltar, K. Vampi, K. Vija, K. Veletta, K. Volare & K. Villia
15 April 2017 - Today Kazkiri Vasur CDX RN aka Odin & his owner/handler Mrs Marylin Collins competed in the Easter Double Open Obedience Trials held at KCC Skye Victoria. Odin obtained his first Pass in the UD ring and also won the Ring under Judge Dennis Cody. Congratulations Team Odin, all at Kazkiri are very proud of you.
​25 April 2017 - Happy 4th Birthday to the P Litter - the first Little Diggers - K. Paint It Black RIP (accident), K. Deep Purple, K. Paper Gangsta, K. Panama Red, K. Prelude To A Kiss, K. Portabella Belle, K. Pour Some Sugar On Me, K. Paper Tiger, K. Pardon Me Boys.
​25 April 2017 - Happy 3rd Birthday to the B Litter - the Second Little Digger Litter - K. Bohemian Rhapsody, K. Born On The Bayou, K. Borstal Boy, K. Bark At The Moon, K. Bubba Sparxxx, K. Black Metallic
1st May 2017 - Numa celebrates his 5th Birthday today. Happy Birthday Boy and to your siblings!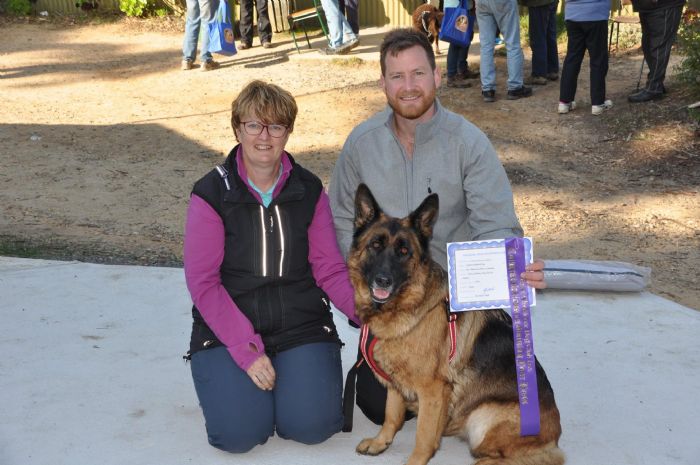 30 May 2017 - "Over the past couple weekends we have been out and about Tracking with Cruz (Kazkiri Smoke & Mirrors) in competitions.
Track 2 - Known tracklayer (Stacey), 800m, must find one article (a sock) and minimum of 2 turns, 45mins max time for the scent.
What a day in Haddon Paddocks. ...
Cruz had a difficult track with 5 turns and up and down hill scents. Lots happened this day, Stacey even got given the wrong map on where to hide and Justin fell whilst handling Cruz. We got a little distracted mid track by a bunch of people standing in the middle of the paddock near her track with dogs in the car (waiting for their track) but came back to the scent and was on 'rails' for most of the track. Nether less Cruz found me and passed her track.
Score: Good
A lovely ribbon and certificate to celebrate.
Track 3- Title Tracking Dog (TD)
First unknown tracklayer (random person), 800m, two turns minimum, must find one article, 45mins max time wait.
Dromana
Cruz was great on this one. This was her first track finding a random person so I got to watch behind and take photos. At the start while harnessing up kangaroos jumped across the track and Cruz was watching intently. Justin tried to get her focused again before they took off. Cruz shot down the track but appeared to be a bit distracted at the first turn but once she found the turn she was again 'on rails' the rest of the way until the last turn when again they got a little distracted by the scent of the roos. They worked hard to find the track again and finished on a high.
Score: Very good (So close to an Excellent - those dam kangaroos!!)
A medal and a name change to celebrate!!
Cruz's name is now officially:
Kazkiri Smoke and Mirrors TD.
We are now up to Track 4 working towards Tracking Dog Excellent Title (TDX). (Track 4,5,6)"
​Congratulations Stacy, Justin & Cruz - All at Kazkiri are very proud of you!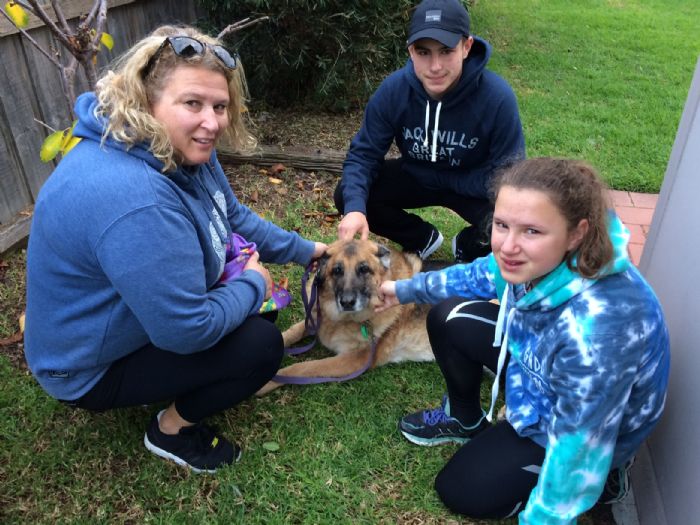 22 June 2017
​Kazkiri Marlene aka Ella
Dam: Hilltop Vroni
​Sire: Fedor von der Magistrale
9 Feb 2004 -22 June 2017
​RIP Beautiful Ella - a wonderful ambassador for the breed.
​25 June 2017 - Happy 2nd Birthday to the Little Indians - K. Cherokee, K. Sequoia, K. Cheyenne, K. Shawnee, K. Comanche, K. Shoshone
​31 August 2017 - Happy 6th Birthday K. Jonti & K. Janti.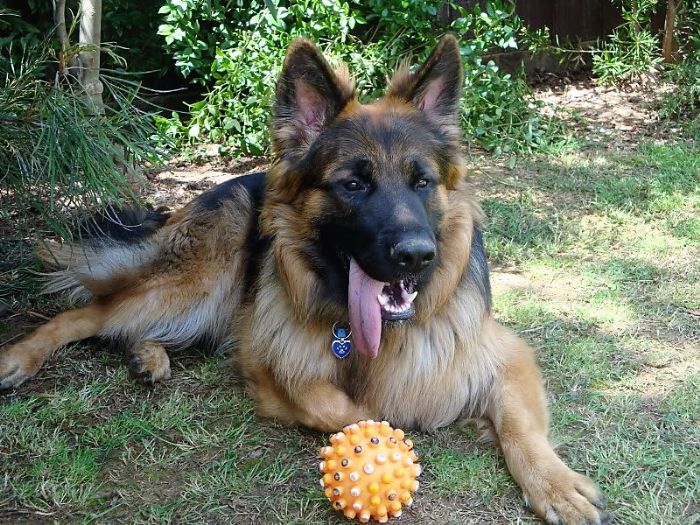 18 September 2017 - We received some very sad news today - Obi (Kazkiri Xan) made his final journey to the "Bridge". Our hearts go out to Chris & Julia.
Rest in Peace Beautiful Boy.
8 October 2017 - Congratulations Team Dolly (Janie Dennis, John Keegan & Kazkiri Paper Doll) on your first pass in CCD at Frankston Dog Obedience Club Open Obedience and Rally Obedience Trial, KCC Park under Judge Miss Sheridan Hicks.
We are very proud of all of you.