kazkiri suri 2007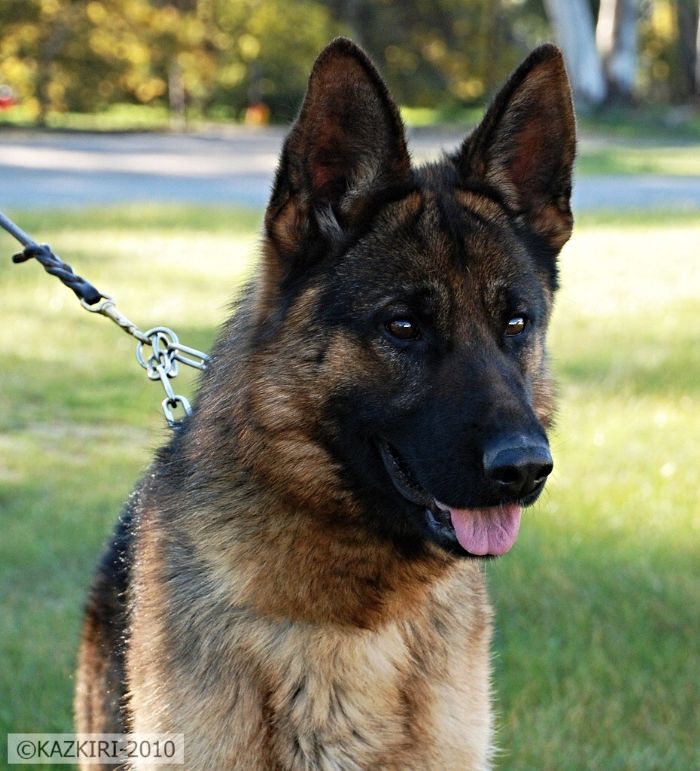 Photo: *Kazkiri Suri
Pet Name: Suri
Sire:*Igor von Pallas Athene (Imported Germany)
Dam: *Kazkiri Dana Scully
Date of Birth: 16 August 2007
Owners: Christine Gallacher (Seigen GSDs) & Noreen Symes (Kazkiri GSDs)
HD (Hips): A 2:4
ED (Elbows: Z 0:0
S:*Igor von Pallas Athene

S:*Drago von Pallas Athene

S:*Romeo von Pallas Athene

D:*Hilka vom Mönchberg

D:*Ilexa vom Schloß Querenburg

S:*Timo vom Berrekasten

D:*Wenke vom Schloß Querenburg

D:*Kazkiri Dana Scully

S:*Aimsway Abacus

S::*Balou vom Eppelein

D:*Rakishka Ali

D:*Hilltop Vroni

S:*Iwan vom Lechtal

D:*Hilltop Maddii
General Description: A very large bitch, medium strong, feminine expressive bitch of very good type. Very good head & expression with pleasing dark eye & beautiful masking. Stands witrh good withers, firm back & good croup. Good forequarter angulation. Good forechest development. She stands correct in front. Steps correct going & coming. She exhibits balanced movement & very good ground coverage.
Temperament Test & Gun Test: Character - reliable, lively, good natured. Watchfullness - very alert.
Condition of nerves -firm. Confidence - self assured. Reaction to gun test - self assured.
Particular Virtues & Faults: Standing on the upper limit of size, a strongly pigmented, slightly stretched bitch of very good type.
Advice for Selection of a Breeding Partner: Connections to Mika vom Overledingerland, Kwint vom Juerikstall & Iccara Xman may be advantageous for further improvement in type, strength, angulations & the croup area. No further linebreeding on Aimsway Abacus or his near relatives is recommended.

Breed Surveyor: Mrs Honey Gross Richardson

Return to Top

Welcome to Suri's Photo Album.
Click each link to view larger photo.