2011 news archive
28 December 2011 - Kazkiri Janti now known as 'Rhoadi' leaves for her new home with Iva.
Kazkiri Midnite Special - 'Max' and friends photo.
15 December 2011 - T.CH Kazkiri Tigerlily enjoying her 2011 spoils!
Breed Improvement Scemes updated
11 December 2011 - Kazkiri Xavi - 'Sparta' - Breed Survey Video
4 December 2011 - In what has been a very bleak weekend, Kazkiri Xavi has brought a little sunshine to Kazkiri. Sparta gains his Breed Survey Classification 1
3 December 2011 - Tragically, Kreuzer passed away in the early hours of the morning.
We are heartbroken.
1 December 2011 - Kazkiri Suri arrives home from WA.
19 November 2011- Kazkiri Ximon attains his CD Title
12 November 2011 - Beauty & Brains - Kazkiri Ximon
Congratulations Zen on your 2nd Place with 184 points & Highest scoring GSD Member at the GSDCV Indoor/Outdoor Open Medallion Trial and then at the evening trial 1st Place with 193 points and again the highest scoring GSD Member. Well Done Zen & Erica!
16 October 2011 - Funday congratulations to the following Kazkiri family:
Erica - Kazkiri Ximon - 1st Place
Karen - Kazkiri Xiva - 1st Place
Bernie - Kazkiri Tigresse - 2nd Place
11 October 2011 - Congratulations Seigen Suris Alfie. Alfie passed the HD/ED Schemes "A"3-3 "Z"0-0
30 September 2011 - We have added Say G'day for our website guests to express their thoughts about our website.
Please sign to let me know you visited.
31 August 2011 - Saffy & Vegas Litter has arrived.
29 August 2011 - Congratulations Kazkiri Tigerlily & Wendy on Lily achieving her Tracking Champion Title

27 August 2011 - Videos of Kuma & Zen
23 August 2011 - Introducing Kazkiri Ximon A Z
1 August 2011 - Kazkiri Jubilee - Saffy is confirmed in whelp to Vegas von Dongmiran (Ultrasound) Litter due 29 August 2011 - NO PUPPIES FOR SALE from this litter.
Photo of Saffy below.
16/17 July 2011 - Kazkiri Tigerlily TD passes her Tracking Test at Gippsland Obedience Dog Club Inc and now has her TDX title. Congratulations Lily & Wendy
Photos of Kazkiri Tigerlily below.
11 June 2011 - Kazkiri Tigerlily TD passes her Tracking Test 5 at Haddon. Congratulations Lily & Wendy!
Photos of Kazkiri Tigerlily below.
10 June 2011 - Life & death are all part of the natural fabric of life. It was with much sadness that we learnt of the passing of Vanharley Vaquero - Buz - on the 10 June 2011. Our sincere sympathy to Nic who has lost his best friend.

6 June 2011 - Kazkiri Tigerlily TD passed Tracking Test 4 at Hastings. Congratulations Wendy & Lily!
15 May 2011 - Lily passes Track 3 with the Working Dog Club of Victoria and gains her Tracking Dog title. Lily was 15 months old the day before the Trial. Miss Lily is now known as Kazkiri Tigerlily TD.
Well Done Girls!
30 April 2011 - Kazkiri Xavi - Sparta - backs up his National success with an Intermediate Dog win under Russell Wenham.

9 April, 2011 - We would like congratulate Wendy & Kazkiri Tigerlily -'Lily' on passing Track 1 & 2 at the Tracking Trials at Haddon.
8 April 2011 - To win a class at Australia's most prestigious show held for the German Shepherd Breed is a dream come true for most Breeders. To win two classes, there are no words to describe the feeling on achieving that honour.

We are very proud of the Kazkiri Team - Alison Fletcher, Angela Borchard & Jon Nasser who own (in partnership with Kazkiri) Kazkiri Kreuzer & Kazkiri Xavi the winners of Baby Puppy Dog & Junior Dog respectively. We would all like to acknowledge our wonderful handlers Debra Colson & Bryan Attwood. What superb exhibitions by both of you. Thank you so very much.

For many years our aim has been to breed sound, well constructed German Shepherd Dogs and to have bred a National winner - bonus - to breed two National winners ....unbelievable.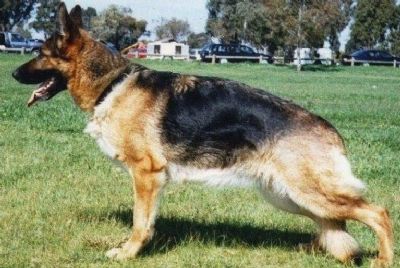 We would like to attribute the success of Kazkiri Kennels at the 2011 National to Hilltop Maddii - bred by Judy Huxley (who has been a wonderful contributor to the GSD for many, many years). Hilltop Maddii is clearly the matriarch of this line & today we are seeing the benefit of this beautiful bitch & her magnificent daughter Hilltop Vroni.

In 2002, Kazkiri forged a brilliant alliance with Jannire German Shepherd Dogs who in partnership with Kazkiri owns Kazkiri Dana Scully, Jannire Black Betty (Dana's stunning daughter - the producer of the 2011 Baby Puppy Dog & Junior Dog winners).

Lastly I would like to acknowledge Igor von Pallas Athene - Bobby - we are extremely fortunate that we have this beautiful dog's bloodlines behind our breeding. I am sure he is looking down from the Bridge and if dogs can smile he will be smiling!